Lincoln's Highlights of Mengkarak
Finally, I'm back in Penang. I've been tied up with certain things that's why I couldn't have blogged earlier.
I was very much excited as Sis and I drove our way down to Mengkarak. It has been 6 months since I was back there. In the begining, I thought that this was going to be a long two hour journey there. I'm really fortunate to have such a nice (foster) sister who is able to talk to me most of the way there and who didn't sleep off to keep me driving alone. Thanks, Sis! :)
Our Foster Home

The kids there were waiting in anticipation for our arrival. Upon our arrival, they just stood there with shy faces not knowing if they should all charge out on us or not. Both Sis and I know that they are all eager to meet us, but I guess shyness overcame them. We didn't have to worry much because after awhile, they were all over us already. :P
Because water was unavailable at our house, we had to walk to our "uncle's" house to take our baths on the first evening. I have to say that it's especially refreshing walking in the cool breezy village night.

As mentioned by Sis, there was a little conflict between me and my second foster sister, Shi Yen. Shi Yen has much of a mind of her own. Always wanting her ways and always wanting attention. I guess I'm not very skilled in this area. I guess I could use some advice from mothers and fathers in this area. You see, I do not want to spoil Shi Yen by giving her whatever she wants whenever she want it. There was one time when the 6 of us (Sis, my other foster sisters and myself) were walking around the village and I was holding the hands of my two youngest foster sisters. Then, up came Shi Yen and wanted to hold my hand and asked her younger sisters to go away. I think this was at our Uncle's place. Of course, I objected because the two youngest sisters were with me from the begining. This is just one of the many situations. From that time on, I guess Shi Yen stuck most of the time to Sis. I really appriciate Sis for her help in trying to get both of Shi Yen and myself back together. I can see the patience and the effort she took in comforting Shi Yen and explaining the situation to her. It would not be complete if I just stopped here. I have to say that I also had my share of "mischieviousness" of irritating Shi Yen. That, I admit that I'm in the wrong.
Happy Shi Yen

Foster Dad with not so happy Shi Yen

Going back to Mengkarak is somewhat a reunion for me. I not only get to meet my foster family but also extended foster family and other friends which I've made there. One of my friends there came by to visit us and we had quite a long chat. She's also a student of Sis' age and boy, she has lots to talk. I'm much more of a listenenr than a talker so I enjoyed much of the conversation with her. First Aunt dropped by twice together with her daughter. As mentioned before, First Aunt has a passion in learning English. She has picked up quite a lot from her English classes. She asked if I could help her further. So I gave her simple two tongue twisters to let her practice her pronounciation. Maybe we all could try saying these as fast and as accurate as we could. :D

"Betty bought a bit of butter but the bit of butter was bitter butter."
"She bought seashells by the sea shore."

We met our "grandfather" on the second day during our morning walk. For his age (though I'm not sure how old he is), he is rather energetic. I can see it by the way he talks with us. He still cycles around the village every now and then.


grandfather always take picture with this sign


In the afternoon of the second day, Sis, the three eldest sisters and myself went for a stroll around the village. We went through oil palm estates and rubber estates. Though it was still quite hot and mosquitoes were hovering above our heads as we entered the estates, we didn't much bothered as we were enjoying our surroundings. Both Sis and I are from the city. To come into estates such as these were something great for us. We observed the rubber trees with marks on them which were cut by rubber tappers and the collected rubber in the cup at the side of the trees. We scavenged for rubber seeds for Sis to take home to show everyone back home (and this, I mean her real home ;P ).
the rubber...

nice scenary

We celebrated our third sister's (Shi Man) birthday on our final night there. First Aunt baked a butter cake which we used as the Shi Man's birthday cake. My guess is that this was probably Shi Man's first birthday celebration. Everyone could see the joy and the excitement written all over her face, though she hardly said a word. When we presented birthday present, I guess that she could hardly believe that it's for her because at first she hesitated when accepting it.


the birthday card ( Thank sis for making it!) ... the cover
the content! see what sis wrote!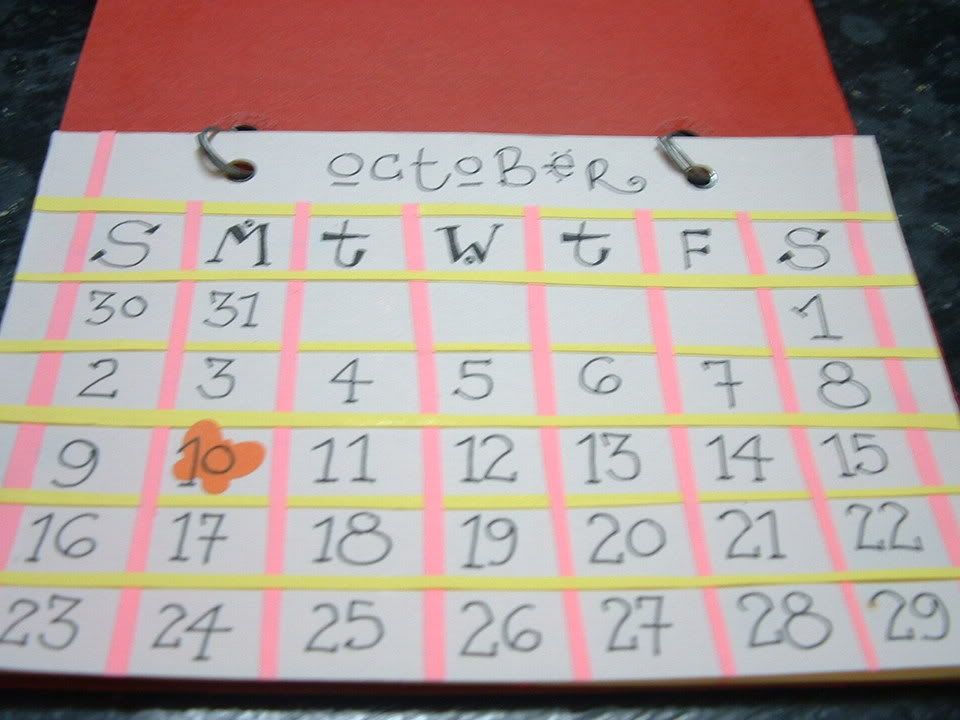 the calender
the heart-shaped-cake
Happy Birthday Shi Man

On the final day, we accompanied our two eldest sisters to school and took a few pictures before leaving for KL. As a whole, it has been an enjoyable trip back there.
I actually wanted to post up more pictures but I seem to be having some problems with it. Will add more soon.